Kerikeri backpackers – what to expect.
Once you arrive here in Kerikeri you will become a Kerikeri backpacker and what better place to come to than our Kerikeri backpackers. (Do you like our play on words there?)
So, you've made it this far… Kerikeri. You'll come for one of two things (or perhaps more, but we'll get to that) – predominantly work or play, or a mixture of both or just one or the other.
One is that you are travelling around on holiday.
Well, the good news is that if that's why you're here – you've come to a great spot!
Our Kerikeri backpackers http://www.honeheke.co.nz is situated a few minutes walk from town in a lovely peaceful place with an outdoor pool across the road during the summer. From here there are some lovely walks (if that is your thing). One of our favourites is the Hongi Hika track down through the bush to the Stone Store and then along the river to Rainbow Falls.

They also have great markets on the weekends. On Saturday there is one a short walk (ok, well 30-40 minutes) from our Kerikeri backpackers. You'll find food stores, music, arts & crafts – and you even get your daily exercise. The good news is that it is opposite the Makana Chocolate factory as well so you can whip in there to try some free samples and get a present for your family while you are there!
You have swimming options in the summer – bit chilly in the winter (despite being the winterless north) – in the river or at cool swimming holes like Charlie's Rock. Also there are a few beaches not too far from here that if you can find a friend with a car (or fill your car with friends) it makes a great day out. You can hire a boogie board from us or just roll about in the waves. There are some spectacular beaches to visit in this area.
If you want to do a day tour you can head north to Cape Reinga and have a go at sand boarding (TIP -do not wear a dress for this!) while you're up there. You'll have a drive down the beach on the bus (not recommended in your own car – even the buses get stuck occasionally so best to respect nature on this one). It really is a cool day out and you'll learn some history as well. We can book it at reception for you and we even give you a discount if you're nice.
Otherwise you can head to Paihia and rent some kayaks for the day and cruise around the bay. There are even some cool guided kayak trips you can do during the day and even evening in the summer. Very special stuff.
Or head out to the islands that make up the Bay of Islands – head to the hole in the rock or go and swim with the dolphins. Pick a day when the weather is nice. Again, we can help you out here at reception giving you advice and our best deals.
In the evenings (or day if you prefer of course) you could head to Ngawha natural Hot Springs. Just 20 minutes drive from here and only $4 to get in. It is rustic and simple but just lovely. No showers there -only a cold tap – so take your oldest clothes.
Sometimes it rains….it always makes us chuckle (for a little bit) when some poor Kerikeri backpackers wanders into reception to ask us what they can do as it's raining. REALLY? The same as when it's not raining.
Now, if it's work you are here for then check out our seasonal work page with all the info or even give us a call. http://www.honeheke.co.nz/backpacker-jobs/ We help hundreds of people each season find work. You will need to be able to be prepared to work hard – and all with a smile.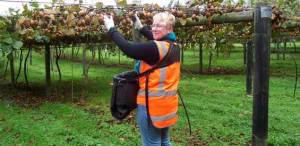 So, what are you waiting for. Come and make our Kerikeri backpackers your next stop. Our family looks forward to having you part of our Hone Heke Lodge whanau and to help you make the most of your New Zealand adventure.