Hone Heke Lodge is a friendly hostel in Kerikeri, Bay of Islands. Quality accommodation to fit all budgets: dorms, motel style rooms and apartment-style accommodation.
About our hostel & backpackers
You'll find a choice of quality accommodation to fit all budgets and needs. Our range of rooms includes…
Backpacker dormitories.
Private double rooms with shared bathrooms.
Double ensuites.
All rooms and facilities are fresh, spotlessly clean and comfortable.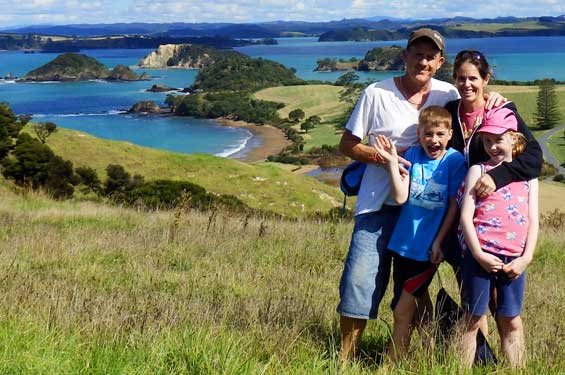 About the owners
The first thing that will strike you about Hone Heke Lodge is that you will find 3 generations of family involved. Bob – the granddad, David & Victoria – the parents, and Ella & Joe – our wonderful children. We are very proud that our hostel is a truly family business and the culmination of what we truly love to do in life – meeting like-minded people who love to travel.
Victoria is a Kiwi and a true Northland girl, going to school in Rawene, Omanaia and Opononi before moving to Whangarei in her teens. In fact she still remembers travelling to Kerikeri with her mum for a haircut! In those days the roads were often not sealed… how it has changed.
After finishing high school in Whangarei she spent a year as a Rotary student in the Netherlands and still speaks pretty good Dutch. Following this she completed her degree at University of Auckland before heading for the South Island to work in Queenstown.
Victoria then left New Zealand to spend 3 years teaching in Japan. She then spent a year as a tour guide in Europe taking backpackers on 3-week trips around the wonderful places of Europe.
Following her European sojourn she moved to London where she met and married David and inherited two wonderful step kids. And they then went on to have twins in 2005.
The twins were barely 4-months old when they made their first long-haul trip down to New Zealand to visit their grandparents. New Zealand has been their second home since then and traveling is already in their blood.
David is English and lived in London most of his adult life. He first travelled independently in 1989 with his brand-new backpack and his round-the-world ticket and has never looked back.
He went on to make travel his career – working for Ebookers, Flight Centre, Virgin Holidays and then for 5 years looking after American Express Centurion card members in the UK.
David and Victoria moved the family to New Zealand in 2014 travelling through Dubai, Malaysia, Thailand, Vietnam and Cambodia on the way.
Ever since they met, David & Victoria have always wanted to work together and this flashpacker hostel for international backpackers is the fulfilment of that dream.
And so here we are – Hone Heke Lodge journey has continued. We truly love what we do and love meeting the amazing people we do.
We bought Hone Heke Lodge on 14 February 2014 (Valentine's Day – very appropriate) with a vision to be the best hostel & backpackers in the North!
It's simple…
We want Hone Heke Lodge to be a super-friendly hostel & backpackers where you feel special.
We want spotlessly clean toilets & kitchen facilities, which is why we clean twice a day.
We want great beds, which is why we have bought new mattresses.
We want you to have a great night's sleep, which is why we turn communal lights out at 10:30 pm and don't tolerate excessive drinking on-site.
We want you to share your experiences with friends & family, which is why we have FREE WiFi!
We want to you feel like you are in Northland, which is why we celebrate all things Kiwi!
Our aim is very simple here at Hone Heke Lodge – to create a hostel & backpacker sanctuary where you can relax and take advantage of the wonderful area around Kerikeri. We want to create a safe, tranquil environment where you can meet like-minded people.
We continually update our reviews from our guests and invite you to read comments from people who have actually been here and experienced being part of the Hone Heke family – your home away from home.
We can't wait to meet YOU!