Part 2 of Bob Kennedy's Te Araroa Trail blog. Bob started his Te Araroa Trail walk at Cape Reinga in November 2010, a year before it was officially opened.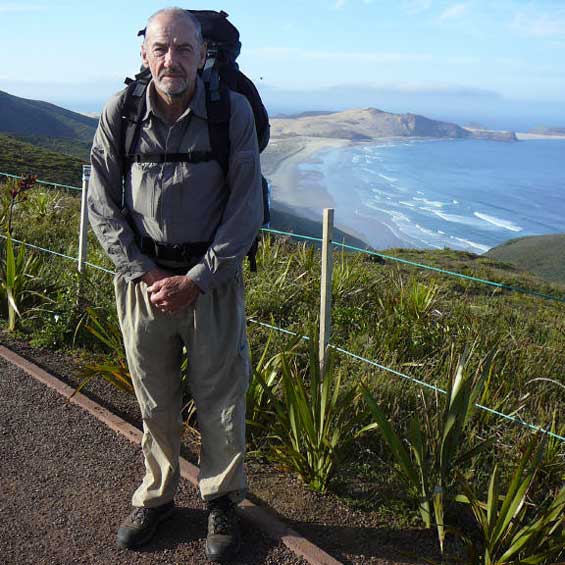 Te Araroa – The Long Pathway – Part 2
Day One
Brenda saw me off at 8:00 AM as planned from a very quiet Cape Reinga Lighthouse car park.
I got to the far end of the Te Wereahi Beach convinced I was on my own. I had just crossed the stream and was putting my boots back on when a young tramper emerged from behind the beach. He had not followed me from the Cape but had come down the loop track on his way out to Cape Maria Van Diemen.
I followed him over the ridge until we could see into the next bay, when he returned saying we were off the track. He pulled out a monocular and found us a marker on top of the next ridge.
There is a real need for another marker or two at this point. No doubt it would have dented my confidence to have gone the wrong way so early in the day.
Later on there were so many markers at a time when you could not possibly go astray. The views of the beaches and headlands over this section are spectacular and I was already regretting not having taken my camera I had thought too heavy.
I found the camping area on the southern end of Twilight Beach, and the source of water, and refilled two water bottles, adding the chlorine tabs to them.
It is a steep climb off the beach and 20kg (less my lunch) was already feeling a burden. My cell phone worked from the highest point, Pukekarea and I was able to send Brenda a message.
There is a long steep set of steps down to the Kahokawa Beach and a small grass area suitable for camping and there sat 4 young trampers on their way north, in this country for a year. We exchanged greetings and information. They offered to share their cigarette, and after I declined they set off.
I put up the tent to secure my place on the grass and sat in the shade for a nap.
Other accounts of this walk include comments about the lack of threats from wildlife in this country. We have no wild bears, or poisonous snakes. The only threat I could think of apart from spiders was from wild pigs.
It was still just light and I had been asleep when woken by a snuffling sound. Pigs make a sort of snuffling sound. Unzipping the inner tent revealed a hedgehog snuffling around my bag between the inner and outer tent. I sent him on his way and went back to sleep. No other company for miles!

 Bob at Cape Reinga with lighthouse in background

 Bob at Cape Reinga at the beginning of his long trip south