Can you help me find a job? We get asked this every day. So it was about time we tried to pack Kiwifruit ourselves.
To pack Kiwifruit (and in fact any seasonal work) is hard work and you will never look at a kiwifruit the same way again. Ever wondered what work goes into getting your fruit home to your kitchen table? Fancy being part of that process?
Most people who are on a working holiday in New Zealand will have to work to supplement their spending money because let's face it New Zealand is not cheap. To frustrate you even more there are probably 10 must do's in New Zealand and they all cost money. Things like this…..
So you are on a years working holiday why not try a job you will probably never do again and certainly not in Europe.
Kerikeri set in the wonderful Northland offers you just that possibility.
I mean, what's NOT to like?
Up here the weather is generally warm all year round although in winter when the sun is not out it can be cold. With a warm temperate climate the conditions are fantastic to grow an abundance of fruit and vegetables and here in Kerikeri kiwifruit is King.
Now Kiwifruit grows on a vine and is set up in the orchards in rows and rows with the Kiwifruit growing just above your head. Be warned if you are 6 foot plus picking can be tough and we have seen a lot of tall guys give up because they vines are just too low.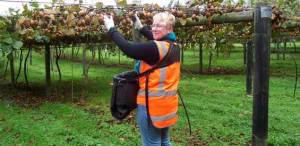 To pack kiwifruit the season starts towards the end of March

and you need to be here in order to apply and be available for work when the fruit is ready. This is probably the biggest headache because no one knows exactly when that will be but when the green light is given so begins anything between 8 and 10 weeks solid work.

In a pack house that means working at least 6 days a week with hours stretching between 7:30am start to an 18:30 finish so a long day guys !!!! A pack house is a tough old place to work with machines rolling from the beginning of a shift right up until the end. Noisy and relentless at the beginning you really wonder how you are going to do the season.

This is me giving it a go…..don't laugh! I did my shift and hats off to those who did it for months on end. R-E-S-P-E-C-T! It is not easy but you must not let the kiwifruit beat you – think of the bigger picture!

Here at Hone Heke we had seasonal workers in 4 pack houses this year working some long hours packing kiwi fruit.We are proud that 90% of our workers completed the season and earned money to get back on the road and experience more of this wonderful country.

If you are prepared to work hard the pack houses without doubt give you the oppurtunity to earn good money and will give you an experience you will remember for the rest of your lives. Fancy it?

You can find out more by contacting us or online here for a start… http://www.seeka.co.nz/locations/c/32

See you next season!