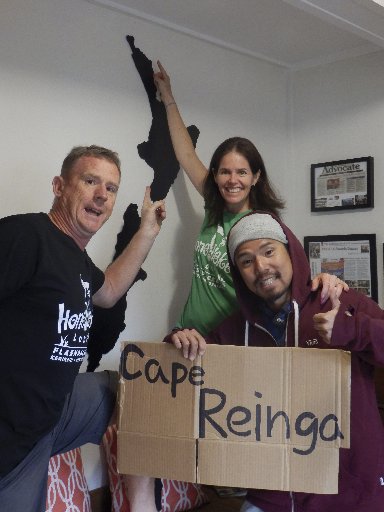 Hone Heke Lodge, Kerikeri owners David & Victoria Howells with Japanese tourist Takaishi Mamoru.
At first, the local word was Japanese diving instructor Takaishi Mamoru had quit the country after he was ripped off through some trickery involving the Hundertwasser toilets in Kawakawa.
Perhaps it was the language barrier, but there was genuine delight when we heard he was not only still in New Zealand, but back in Northland where he was treated to some fantastic local hospitality.
Takaishi's backpack, wallet and passport were pinched by a driver who gave him a lift from Whangarei to Paihia last Monday.
The driver dropped Takaishi at the famous toilets and took off.
Takaishi told the Advocate he made it from Queenstown to Kawakawa with no trouble, and wanted to keep going to finish his journey at Cape Reinga.
When Takaishi landed at Hone Heke Lodge in Kerikeri late last week, owners David and Victoria Howells learned what had happened and let their guest stay for free.
The Howells then arranged for Fullers Great Sights to take Takaishi on a free trip to Cape Reinga.
Fellow international backpackers at Hone Heke Lodge have also helped him.
What the Howells and Fullers have done has gone a long way to softening the blow landed on Takaishi by a stupid act.
Tourism helps put food on the tables of many Northlanders, and treating visitors badly damages the region's reputation.
Bad news travels fast, and not just locally but globally. An Instagram or Facebook post can go viral overnight.
The Northern Advocate has co-ordinated a similar "help" campaign, funnily enough for Japanese tourists who had their car broken into within minutes of arriving in Whangarei.
It's a simple, generous act that can go a long way to restoring an individual's faith in a country, and it also helps smooth out the dent to the region's reputation. Thanks Fullers, David and Victoria – Kerikeri and your region is grateful.
Click here for the original article, titled "Editorial: Acts of kindness will bear fruit" published in The Northern Advocate on Tuesday Aug 30, 2016.